Youth Opportunities Unlimited is building a stable home for youth, young moms, and moms to be at the most vulnerable time in their lives.
Image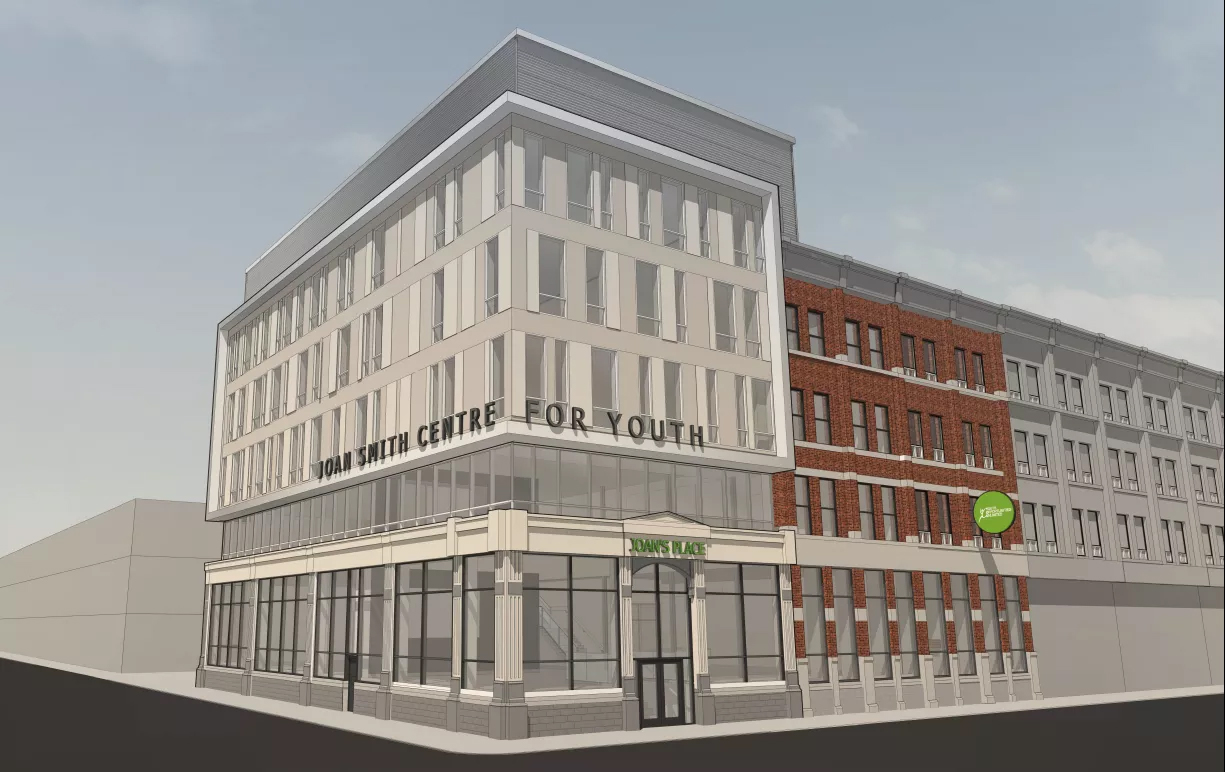 Located in Downtown London, Joan's Place will provide safe and affordable homes for those experiencing homelessness or at risk of homelessness.  Joan's Place will also feature Southwestern Ontario's only Youth Wellness Hub: an integrated program hub where local organizations will come together to offer youth primary and mental healthcare, addiction services, education, employment training, and housing supports. 
"Joan's Place is more than just housing – it's about creating a home. It's about wrapping people with the supports they need. It's about helping people build the skills so they can become contributors to the community that they want to be." – Dr. Arlene MacDougall, Psychiatrist, Schulich School of Medicine & Dentistry.

Mackenzie's Story 
Mackenzie has always been driven to succeed. But, as a teen, she realized reaching success wasn't simply a matter of "setting her mind to it". "I struggled with my mental health and relationship issues in my teenage years, and graduated high school pregnant with my daughter," says Mackenzie. Having her daughter months after graduation, she transitioned abruptly into adulthood and felt unprepared. Worried about her ability to support her newborn daughter given the high cost of rent, Mackenzie faced a conflict. Without a job, she could not afford childcare, but without childcare she could not get a job. "I always knew that I wanted to do something with my life, but I could not get ahead," says Mackenzie. Solution-focused and eager to break the cycle, Mackenzie became involved with YOU's program, Training for Employment Success. Through the program, she completed field training at the YOU Café. "I had the opportunity to invest in myself, which gives my daughter a better future as well," she shares.
Image

Working at the Café gave Mackenzie more than just on-the-job training. When her relationship with the father of her daughter became toxic, YOU recognized signs of distress, and acted quickly. "YOU supported me, advocated for me and connected me with resources. I was given the courage to remove myself and my daughter from a harmful situation." As a single mom balancing college, work, volunteering, friendships, relationships, and self-care, there are many things to get done in a day. YOU gave Mackenzie job skills, an income, and mental health counselling. They advocated about her abilities as a mother and helped her find affordable housing. "YOU gave me strength," she explains. Mackenzie and her daughter are healthy, stable, and growing. "YOU helped me find myself, learn to navigate a system that I felt trapped in, and become a strong and confident role model for my daughter." 
 
"YOU helped me achieve my goals and because of that, my daughter is growing up strong. I am so proud of both of us." - Mackenzie, YOU Alumni 
Donate Now
For Joan's Place
Please use Chrome or Safari when making an online donation, as we cannot receive donations via Internet Explorer. Having trouble or want to speak to someone directly? Contact Mark Goguen at 519.432.1112 x 286 or donations@you.ca