Taking care of the next generation, together.
Home is a place of safety and security; a place where you can learn and grow. 
Joan's Place will be exactly that - a safe and affordable home for youth, young mothers, and mothers-to-be who are experiencing, or at risk of experiencing, homelessness.
And it will be so much more. 
 
Image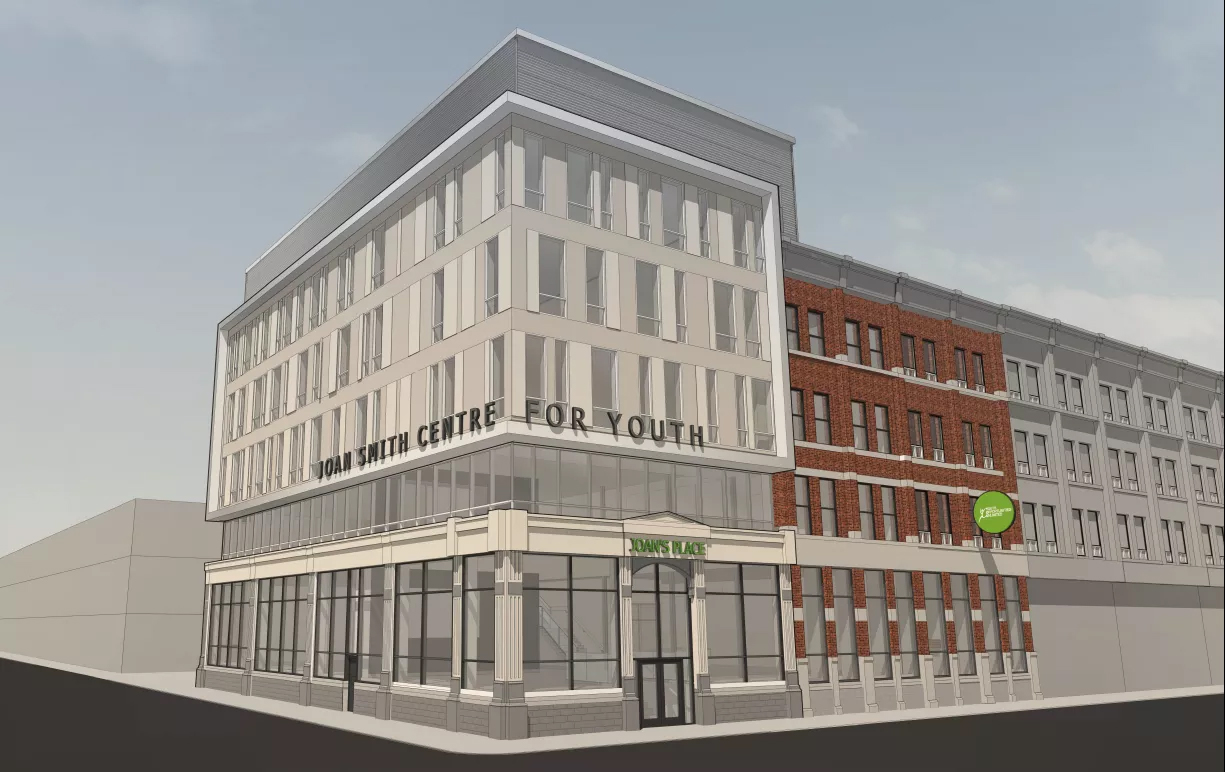 At YOU, we know it takes more than a roof or affordable rent to change a life.
That's why the vision of Joan's Place is to help young people escape homelessness and create a new cycle, for themselves and their young families. With a wraparound model of care, this new downtown hub will allow youth to be exactly that: young people — learning, gaining experience, and growing.
 

In addition to providing housing, Joan's Place will bring together dozens of local organizations that offer youth primary and mental health care, addiction services, education, employment, and housing supports in an innovative Youth Wellness Hub, ensuring young people can access the key services they need at the most vulnerable time of their lives, and as quickly and conveniently as possible.
By the Numbers
YOU serves 3,600 youth across London-Middlesex annually
Youth make up 26% of the homeless population in London-Middlesex
Joan's Place will be able to serve 200+ people daily in a total of 55,000 square feet, including a youth wellness hub and 39 affordable housing units
Joan's Place will change lives, in this generation and the next because of generous donors from our community.  Will you join them?
Joan's Place will be made possible by generous donors, including the Smith Family, who have chosen to name the facility after their beloved mother, Joan Smith. Joan was a trailblazer for women and a tireless champion of the underdog, including as Ontario's first female Solicitor General, where she advocated for social change, including altering legislation on gay rights and police conduct. Hear more from other generous donors, supporters and program alumni about why you should support this transformational project:
 
Help us build up the next generation, today.
We can choose to make a change in our community: to be there for our young people at the most vulnerable time of their lives.
It's time to get them home. 
Supported.
Well.
And on the path to creating a new cycle.
But we need your help to get there.
Make a gift and help make Joan's Place a reality; to give youth, young mothers, and mothers-to-be a home — a safe place to stay and the supports they need to thrive.
Thanks to a gracious anonymous donor, each gift made towards Joan's Place is being matched! Give today to double your impact.
Contact Timo Climans to get started as a Joan's Place supporter.
Donate to Joan's Place
Please use Chrome or Safari when making an online donation, as we cannot receive donations via Internet Explorer. Having trouble or want to speak to someone directly? Contact Timo Climans at 519.432.1112 x 286 or donations@you.ca.