Youth Opportunities Unlimited specializes in supporting young people in their job search. We meet youth where they are at in their work-related journey, and provide support and opportunities so that all young people can reach their potential. Our Career Services team offers multiple employment programs and supports to youth in London and Middlesex County. 
If you are between the ages of 15-30 and are not enrolled in education or employment full time, we can help you job search! To get started with Career Services, please contact an Employment Counsellor today. Appointments can be booked by completing the Contact Form at the bottom of this page, calling us at 519-432-1112 to book an appointment, or stopping by for a drop-in appointment. Drop-ins are available at 333 Richmond St between 9am-12pm and 1pm-5pm Monday through Friday. Stop in and see us!
Image

Funding is provided by the Government of Canada through the Canadian Job Grant programs delivered by the Government of Ontario.
Employment
The first step in getting started is meeting with an Employment Counsellor, who can help to assess eligibility and interest in YOU programming. Our Employment Counsellors offer individualized supports with resume building, interview preparation, and job searching, and help youth to connect to employment training programs.
Our employment training programs help young people to build their skills and confidence around the workplace. Youth can participate in interactive workshops, gain experience within YOU's social enterprise businesses, and receive the support of a Job Developer in finding a paid placement within the community! 
Check out our Collective Impact for Connecting Youth program - a resource for both youth and employers that helps young people find the right job and make it stick by continuing to support them once they are employed. 
Education
YOU offers multiple educational opportunities for young people. This includes training in Smart Serve, Safe Food Handling, First Aid/CPR and providing referrals for additional training. Employment Counsellors can also support youth with educational goals related to high school, college and university.
For assistance with education and employment, contact Tabata Possobon, Career Services at TabataP@you.ca  / 519-432-1112 x 297. 
NEW: Pre-Construction Program
Youth Opportunities Unlimited in partnership with Fanshawe College is proud to present an 11-week Pre-Construction Program: Building YOUr Future. This program offers mentorship, hands-on experiences, certifications to build your resume and wrap-around supports. Sessions start September 25th and December 4th, 2023. For more information, please contact 519-432-1112. 
Image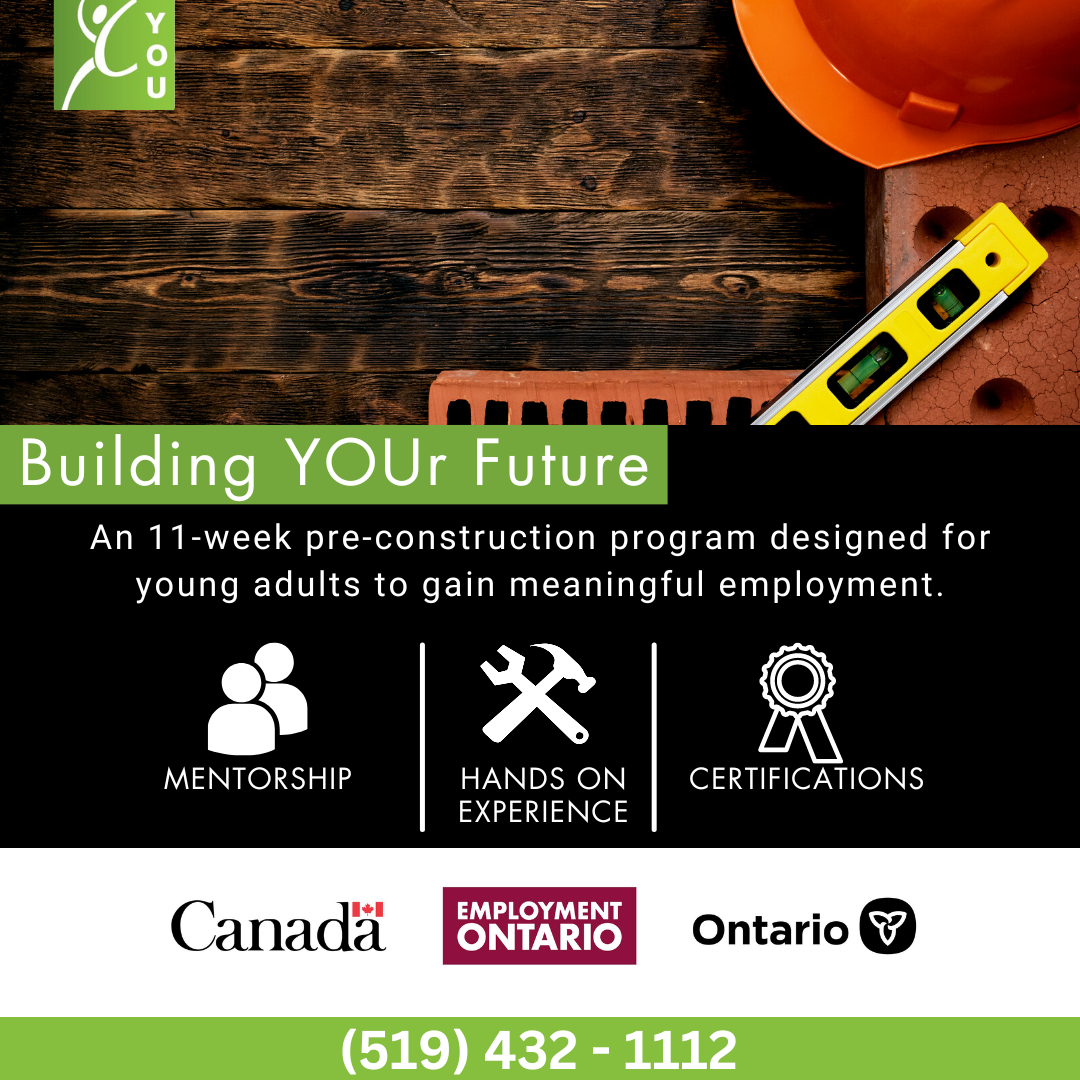 "What YOU means to me is the ability to take someone who may be struggling with personal issues or someone who's looking for work, maybe both, and turn their life around in a small amount of time. Personally, I have made a friend and found work, all in one month! Now I work at Coca-Cola and I'm excited to see what achievements my life can bring me moving forward. Thank you YOU!" - Paul 
Image

tabatap@you.ca