Pre-order Mother's Day brunch prepared by the YOU Made It Cafe!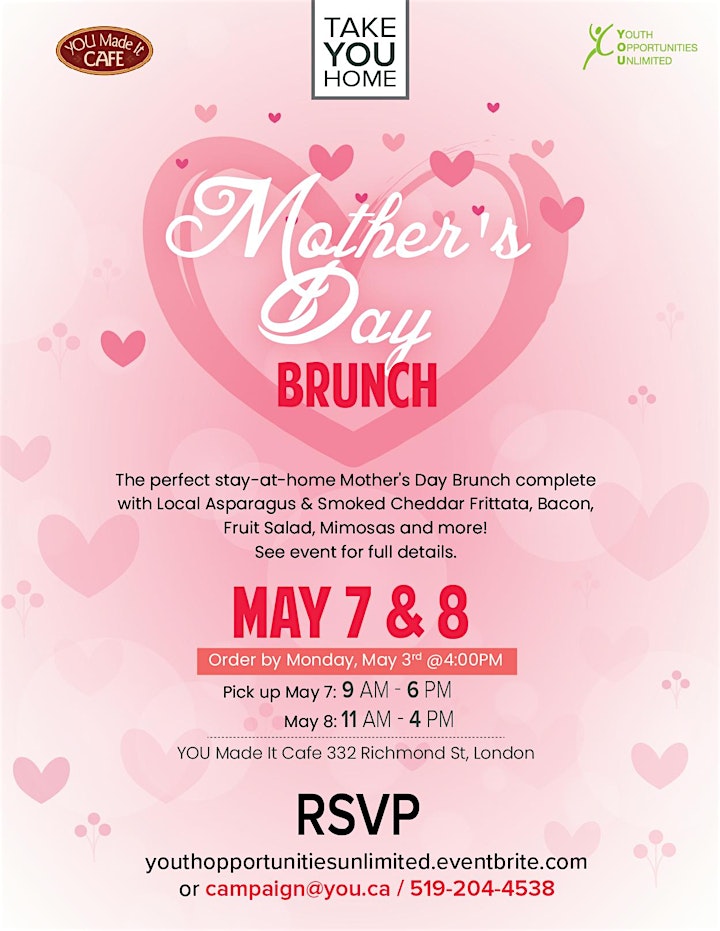 Event Details:
Date: May 7-8, 2021
Place your orders online by Monday, May 3 @ 4:00 PM
Pick-up Times:
May 7: 9:00 AM-6:00 PM
May 8: 11:00 AM - 4:00 PM
Menu:
Main:
Local Asparagus & Smoked Cheddar frittata with herb roasted potatoes [$14.00]
Additions:
Maple Glazed Double smoked bacon - 3pc [$4.00]
Lime Scented Fruit Salad [$4.00]
½ lb ground YOU Opportunity blend coffee [$8.00]
Drink Specials:
Mimosas for 2 - Henkell Troken Piccolo 200ml Bottle, Orange Juice 300 ml, Strawberry and Orange Slice Garnish - ABV 11.5% - [$13.00]
Sparkling Pomegranate and Orange, Garnished with Strawberry and Orange Slice [$3.00]
Mother's Day Specials
Bake Sale Box- a tasting of some of our favourite baked goodies. This box includes blueberry coffee cake, a sweet basil scone with mushed by YOU jam and our salted chocolate toffee cookie [$7.00]
Mushed Collection Gift Box [$65.00]
Note: All meals will be prepared prior to pick-up, and are to be refrigerated until ready to heat and serve! Prior to serving, simply heat meals in oven or microwave.
Donate Now
YOU is looking for donations to help us sustain our youth-based programming. Please consider making a donation at check-out or by clicking here.
For more information please contact our event manager:
P: 519.204.4538