Pre-order an egg-cellent Easter Dinner for your family, prepared by the YOU Made It Cafe!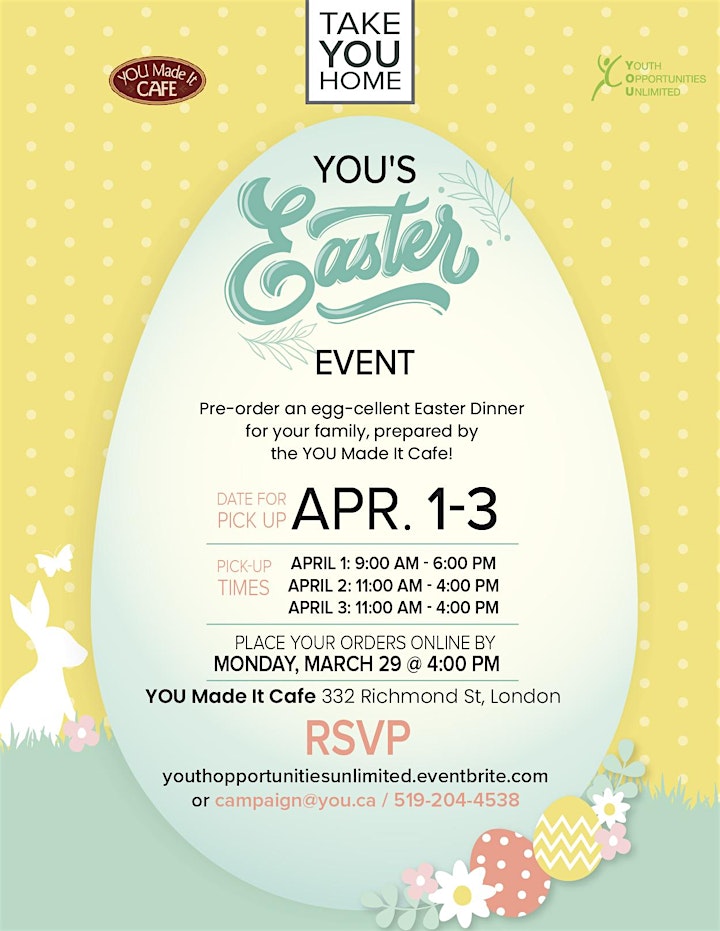 Event Details:
Date: April 1-3, 2021
Place your orders online by Monday, March 29 @ 4:00 PM
Pick-up Times:
April 1: 9:00 AM - 6:00 PM
April 2: 11:00 AM - 4:00 PM
April 3: 11:00 AM - 4:00 PM
Menu:
Main:
Double Smoked Ham with Brown Sugar & Citrus glaze, served with Roasted Rosemary Scented Hassel Back Potatoes & Creamy Garlic Kale [$18.00]
Vegetarian:
Maple Glazed Carrot, Roasted Mushroom & Hazelnut Tart served with Creamy Garlic Kale [$18.00]
Additions:
3 piece Pimento Deviled Eggs with a cheesy sour cream & roasted red pepper filling garnished with crispy fried onion  [$4.75]
Rainbow Chopped Salad with heirloom carrot, red beets, fennel, zucchini & romaine lettuce served with a sweet basil dressing [$4.75]
Classic Lemon Bars with shortbread crust [$4.75]
Riunite Lambrusco Frizzante Red Bend - sweet, fruity and fizzy Italian wine [$20.00]
Family Deals:
Family of 4 Feast - includes four main courses and all 3 sides [$120.00]
Family of 4 Dinner - includes four main courses [$67.00]
Family of 4 add-ons - purchase a family size add-on [$17.50 each]
Easter Specials:
Mini Mushed Sampler 5 pack [$10.00]
Spring Gift Box [$35.00] This gift box Includes Mushed by YOU Black Jack BBQ Sauce, Mushed by YOU Pear, Pineapple and Orange Jam, Cedar BBQ Scraper and a set of 3 gardening tools.
Donate Now
YOU is looking for donations to help us sustain our youth-based programming. Please consider making a donation at check-out or by clicking here.
For more information please contact our event manager:
P: 519.204.4538