Pre-order a locally sourced Holiday Meal for your family while supporting Youth Opportunities Unlimited.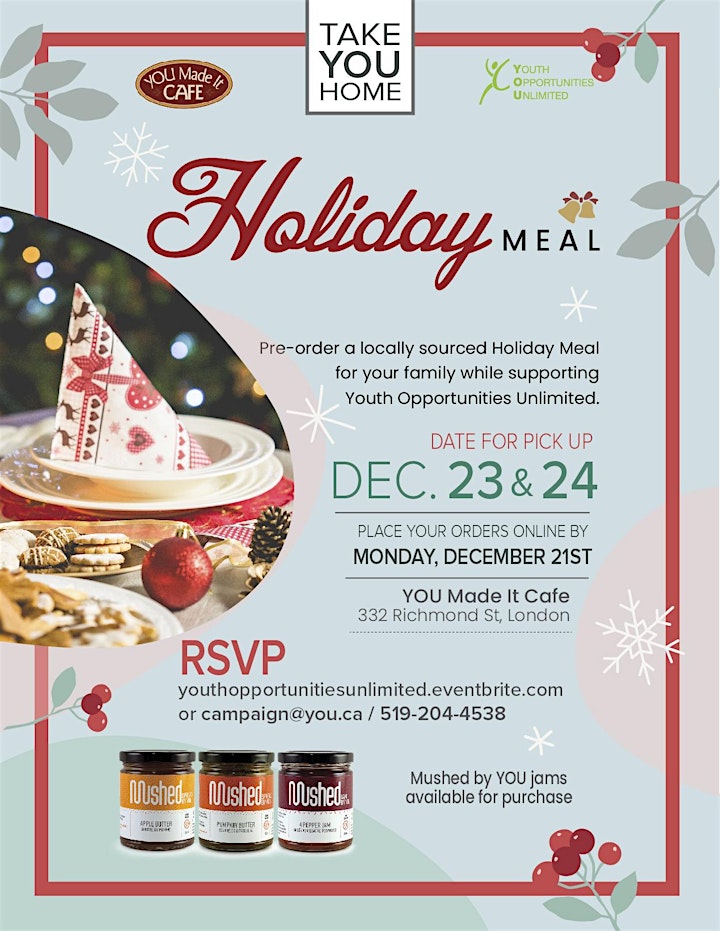 Event Details:
Thursday, December 23-24, 2020
Place your orders online by Monday, December 21 @ 4:00 PM.
Pick-up Times:
December 23 9:00 AM - 6:00 PM
December 24 9:00 AM - 3:00 PM
Menu:
Carved Roasted Leg of Lamb - with minty salsa Verde, rich port gravy, celery root mash, warm Brussel sprout & roasted beet salad
Vegetarian:
Roasted Butternut Squash & Goat Cheese wellington - with miso mushroom gravy, celery root mash, warm brussel sprout & roasted beet salad
Cost:
Single: $23.00
Family of 10: $200.00
Additions:
Cheesy Parsnip Gratin -[$6.00]
Kale Salad with Roasted Garlic Breadcrumbs, Lemon pepper Vinaigrette, Shaved Pecorino Cheese - [$6.00]
Chocolate Hazelnut Tart [$6.00]
Holiday Cookies [$12.00 per ½ dozen] Single Variety:
White Chocolate Peppermint Pretzel Cookies
Brown Butter Salted Caramel Snickerdoodles
Mexican Wedding Cookies
Hot Chocolate Cookies with Marshmallow center
Gingersnap Sandwich Cookies with White Chocolate Frosting
Peanut Butter Blossom cookies with chocolate kiss center
Note: All meals will be prepared prior to pick-up, and are to be refrigerated until ready to heat and serve! Prior to serving, simply heat meals in oven or microwave.
Mushed by YOU:
Pre-order a Mushed by YOU Jam Trio or individual YOU Apple Butter! See add-on option when purchasing your tickets.
Donate Now: 
YOU is looking for donations to help us sustain our youth based programming. Please consider making a donation at check-out or by clicking here.
For more information please contact our event manager:
P: 519.204.4538