Image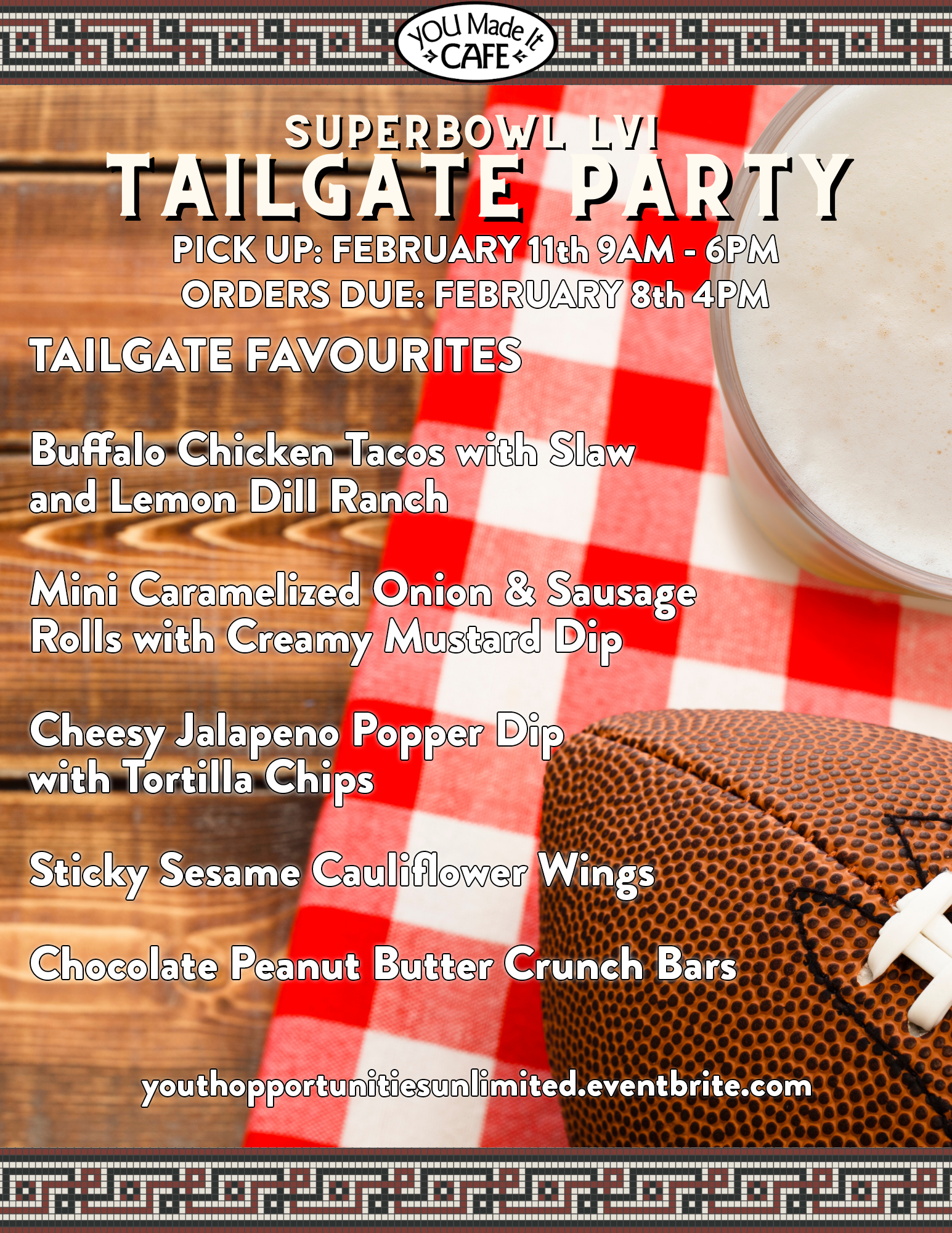 Event Details:
Friday, February 11th
Place your orders online by Tuesday, February 8th @ 4:00 PM
Pick-up Times: Friday, February 11th from 9:00 AM - 6:00 PM
Menu:
Mix and Match your favourite Tailgate apps!
Buffalo Chicken Tacos on Flour Tortillas with Carrot & Celery slaw, Lemon Dill Ranch, 2 per order [8.50 ]
Mini Caramelized Onion & Pork Sausage Rolls with Creamy Mustard Dip, 3 per order [7]
Cheesy Jalapeno Popper Dip with Tortilla chips [8]
Sticky Sesame Cauliflower Wings [8]
Chocolate Peanut Butter Crunch Bars with Pretzel Bits & Rice Krispies [4.75]
YOU Cream Ale: each [7] or 1/2 Dozen [40]
Note: All meals will be prepared prior to pick-up, and are to be refrigerated until ready to heat and serve! Prior to serving, simply heat meals in oven or microwave.
Donate Now
YOU is looking for donations to help us sustain our youth-based programming. Please consider making a donation at check-out.
What is the YOU Made It Cafe?
Youth Opportunities Unlimited (YOU) highlights the chefs from the YOU Made It Cafe supporting youth to develop employment and life skills. By pre-ordering a Taste of the World dinner, you are supporting youth to gain the skills and confidence they need to obtain future employment in our community.
For more information please contact us:
P: (519)432.1112 x 504